The transfiguration
Raphael (Raffaelo Santi, 1483-1520)
Vatican Museums, Rome (Photograph Calvi)
According to present estimations, there are between 300,000 and 600,000 people in the U.K. who have epilepsy. Of these, over half are under 20 years of age. In the Renaissance, this disease was just as common as it is today, although in those days people made no clear distinction between obsessions, the plague and epilepsy. The Renaissance viewed the human being who fitted harmoniously into the cosmos, as the measure of all things. Therefore people reacted with great irritation to anything that seemed unusual or strange and looked to the heavens to find an explanation for it. In the Christian Middle Ages, as in ancient Greek and Roman times, epilepsy was regarded as the 'unnatural, mysterious illness which is not of this world.'
The most famous painting of a person with epilepsy is the one by Raphael (Raphaelo Santi, 1483-1520) :
Raphael's last picture, the 'Transfiguration of Christ', is divided into two parts: the upper part depicts the transfiguration of Christ, the lower part portrays the healing (or rather the scene immediately preceding it) of the boy with an evil spirit (epilepsy). This story comes immediately after the description of the transfiguration in the synoptic Gospels (Matthew, Mark, Luke). The lower part of this painting, which was never completely finished, is based on the following passage in the Bible:
'...Teacher, I brought my son to you, because he has an evil spirit in him and cannot talk. Whenever the spirit attacks him, it throws him to the ground, and he foams at the mouth, grits his teeth and becomes stiff all over.' (Mark 9, 17-18)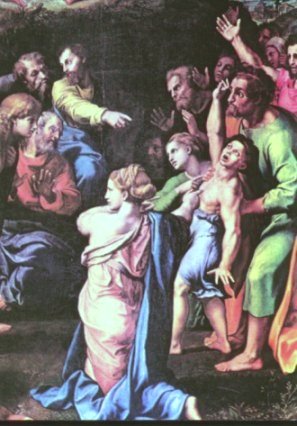 The scene shows the father (wearing a green robe to symbolize hope) bringing his son to the disciples. The painting shows the boy having a seizure: his father has to support him as he cannot stand upright. The boy's limbs are stiff (tonic) and twisted, his mouth is slightly open, his lips are blue, his eyes are fixed in a squint. It is clear to see that during such a convulsion the 'demon' would throw the victim 'into the fire or into the water' (Mt 17, 14) if he were not under the care of his family.
Jesus heals the boy by driving out the evil spirit. This passage in the Bible led people in the Christian Middle Ages to believe that epilepsy was caused by demons, and this opinion was one of the main reasons why the falling sickness was called 'morbus daemonicus' (the demonic disease) at that time.
Art historians have repeatedly pointed to the symbolism of the themes portrayed in this masterpiece: they believe that Rafael intentionally included the simultaneous depiction of the transfiguration of Christ and the healing of the epileptic boy in one painting. In so doing he consciously created a link between the transfigured Christ and the epileptic boy - a symbolic incongruity between the later crucified and then risen Christ and the epileptic boy who falls to the ground in a seizure, lies there as if dead and then 'rises' up again. It is notable that in the painting, the only link between the two parts of the picture is made by the epileptic boy, who is the only person in the lower half of the picture whose face is turned to the transfigured Christ in the upper part of the painting.
--- close this window ---